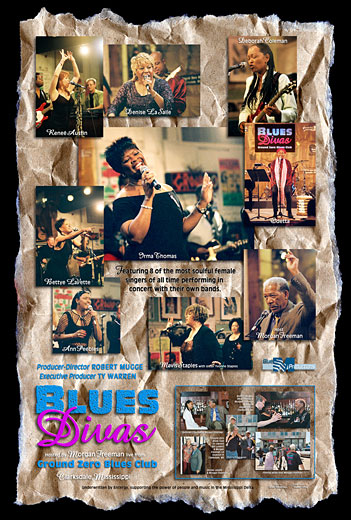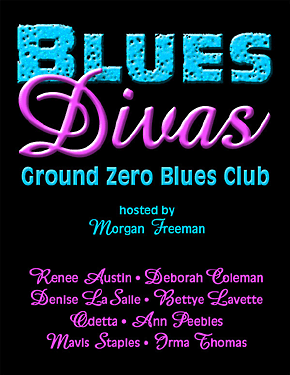 Click Here to View: Two-Hour Film • Irma Thomas Portrait • Odetta Portrait
Mavis Staples Portrait • Bettye LaVette Portrait • Ann Peebles Portrait
Denise LaSalle Portrait • Deborah Coleman Portrait • Reneé Austin Portrait
"Eight fabulous femmes strut their substantial stuff in 'Blues Divas,' newest in a long line of joyous music-themed docus from director Robert Mugge... Straightforward docu opens with brief intro from thesp and enthusiast Morgan Freeman, whose Clarksdale juke joint Ground Zero Blues Club hosted festivities and Mugge's high-def crew over a three-day weekend in spring 2004. The actor's laidback and often adulatory chats with the talent punctuate uncut numbers... From the religious fervor of Mavis [Staples] to the defiant raunch of Denise LaSalle, perfs are uniformly strong... Throughout an illustrious quarter-century career...Mugge's movies have been more about the combustible mix of forceful personalities and powerful music than surface gloss."
- Eddie Cockrell, Variety

Robert Mugge, Irma Thomas & Morgan Freeman at the Madidi restaurant in Clarksdale, MS

Bettye LaVette

Deborah Coleman and Morgan Freeman

Denise LaSalle and Morgan Freeman


Odetta

Mavis Staples with sister Yvonne Staples


Ann Peebles


Reneé Austin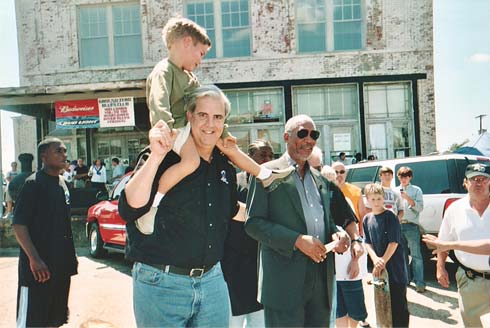 Original club owners, actor Morgan Freeman (right) and the late attorney
and mayor Bill Luckett, standing in front of Ground Zero Blues Club.

Photo Credits:
All artist photos shot by Dick Waterman between April 30 and May 2, 2004.
Photo of Bill Luckett and Morgan Freeman shot by Robert Mugge on August 14, 2004.