Now on Blu-ray and DVD
from MVD Visual!

SAXOPHONE COLOSSUS
Featuring Sonny Rollins
(1986)

A 101-minute portrait of jazz great Sonny Rollins featuring an ensemble performance in upstate New York and an orchestral world premiere in Tokyo, Japan.

| | |
| --- | --- |
| | |
| | |
| Front | Back |

Mouse over the thumbnails above
to switch the cover at the left.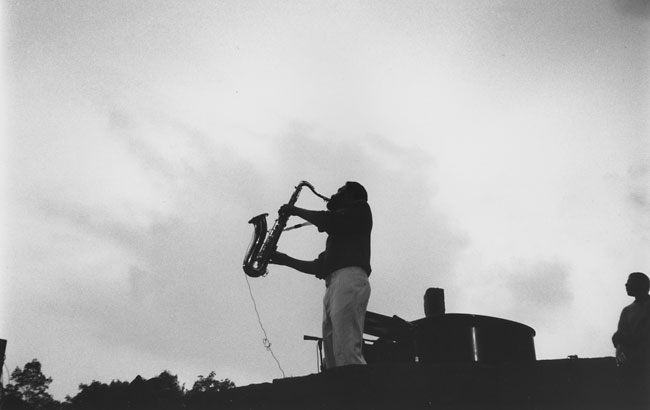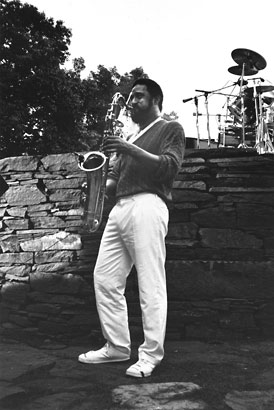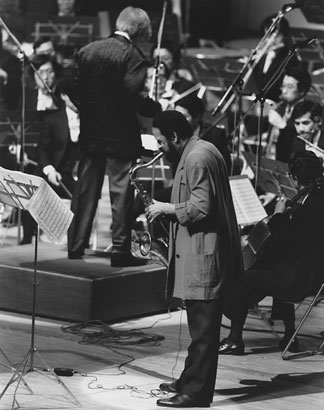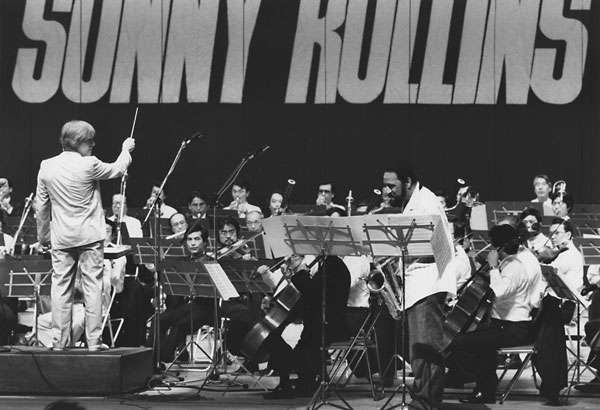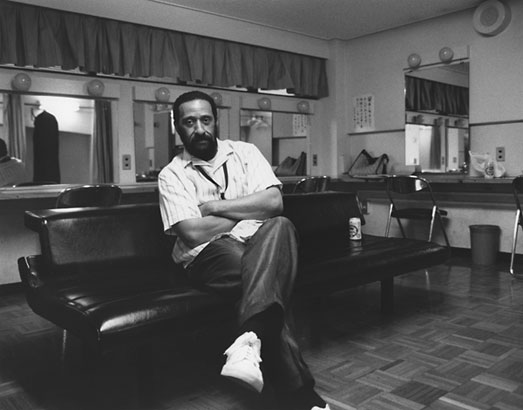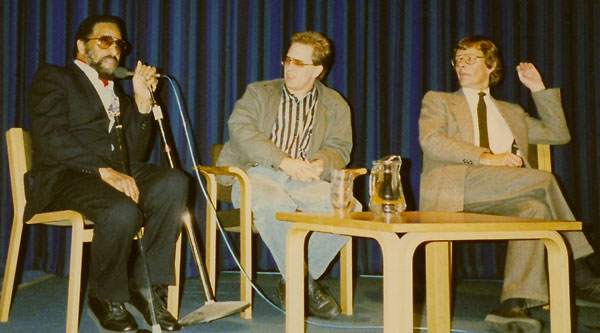 The world premiere of SAXOPHONE COLOSSUS at the 1986 London Film Festival. Left to right are jazz artist Sonny Rollins, filmmaker Robert Mugge, and festival director/film critic Derek Malcolm.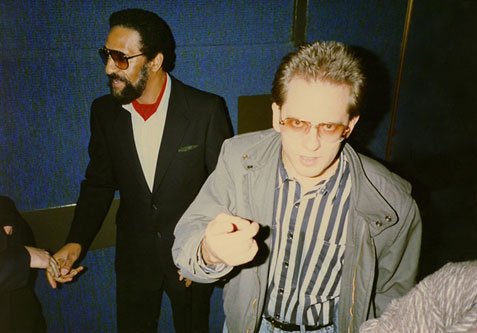 THE WALL STREET JOURNAL
February 21-22, 2009
Two '80s Film Flashbacks
Sonny Rollins and Al Green Documentaries, New on DVD
By Will Friedwald
When Robert Mugge's documentaries "Sonny Rollins Saxophone Colossus" (1986) and "Gospel According to Al Green" (1984) were made, they were intended as a permanent record of two seminal musicians at a very specific point in their careers. The central figures themselves had axes to grind: Sonny Rollins -- and even more so, his manager and wife, Lucille -- wanted to silence the critics and fans who insisted that his contemporary work was inferior to his classic albums of the '50s and '60s; Al Green was compelled to explain to the world why he gave up singing pop music and devoted his life to spreading God's word.
Today, those particular points don't matter as much as they once did. Mr. Rollins is treated as a living legend, whose every performance, young and old, is rightfully cherished; Mr. Green himself made another career change and since the mid-1990s has been performing secular as well as sacred music, knowing full well that audiences will accept him no matter what he sings.
But these two films, newly released on DVD by Acorn Media, hold up well as vital profiles of their subjects at turning points in their lives, each combining a concert film with a journalistic backstory. They also remind us how much the genre has changed in the past two decades, a period of ever-shortening attention spans. When Mr. Mugge made these documentaries (both of which exceed 1½ hours in length, with not a minute wasted), it didn't seem like too much to ask an audience to watch a man play a sax for 10 minutes straight.
"Saxophone Colossus," which takes its title from Mr. Rollins's celebrated 1956 album, begins with the musician talking about how he prepares for a performance; although it isn't exactly through "meditating," he does drop that word, and both of Mr. Mugge's films are extended meditations on one man's contributions to music.
The filmmaker and his camera crew capture Mr. Rollins in performance at two events. At the first, he and the Yomiuri Nippon Symphony Orchestra play the "Concerto for Tenor Saxophone and Orchestra," Mr. Rollins's collaboration with the Finnish arranger-composer-conductor Heikki Saramanto. In the accompanying commentary, the director explains that he thought the work might become a jazz classic on the level of John Coltrane's suite "A Love Supreme." Instead, the concerto -- though it's a fascinating piece, which includes one movement that sounds inspired by Aaron Copland and another by Caribbean music -- sank into obscurity. It has never been issued on CD.
The other concert included in "Saxophone Colossus" is an August 1986 date in a rock quarry converted into a performance space. Mr. Mugge's intention was to show the high level at which Mr. Rollins performs even at a bread-and-butter gig with his regular working band (including trombonist Clifton Anderson and bassist Bob Cranshaw, who are still with him today).
Less than a half hour in, Mr. Rollins plays a short, unaccompanied medley of several themes, including "A Kiss to Build a Dream On" and "How Are Things in Glocca Morra," and then jumps off the stage. Apparently, he was frustrated by the sound of his tenor sax -- which had changed since it was relacquered. He was intending to head into the outdoor audience, and to play among them like a strolling musician. He hits the ground with such force that his heel bone snaps, and he lies down on the stone, flat on his back. Then, still horizontal, he begins to play "Autumn Nocturne," with neither the audience nor the band realizing that a bone is actually broken in his foot. In the days before tiny video cameras and cellphone photography, this was an extraordinary slice of reality to capture on film.
* * *
"Gospel According to Al Green" is driven by the irresistible, almost aggressive charisma of its central figure (who won two more Grammy Awards earlier this month). Not only does the Rev. Al Green exude the same energy when singing of love for a woman or love for Jesus, but he acknowledges no difference between preaching in a Baptist church, addressing an audience in a night club, or being interviewed by Mr. Mugge in a recording studio. Whether a camera crew or a crowd of thousands is listening to him, he speaks as if he's talking to his most intimate friend.
His recounting of hearing the word from God that he must be born again is compelling enough to make even a nonbeliever get down on his knees. The story of how a vengeful ex-lover attacked him by throwing a cauldron of boiling hot grits on him, and then shot herself, is by turns both comic and tragic. There's a touching moment when his once and future producer, Willie Mitchell, tells of how their partnership ended when Mr. Green stopped singing pop songs. It is ironically underscored by their 1972 hit "Let's Stay Together."
But "Gospel According to Al Green," like "Saxophone Colossus," is ultimately driven by the music, which we get to hear at its proper length. Mr. Green describes gospel music as having "an electricity that's got nothin' to do with sex," but there's an overt sensuality to his performance here -- whether describing romantic or spiritual ecstasy. He makes it clear that both come from the same place in the heart.
Mr. Friedwald writes about jazz and other music for the Journal.
Reprinted from The Wall Street Journal © 2009 Dow Jones & Company. All rights reserved.
JAZZ TIMES
May 2009
SONNY ROLLINS
Saxophone Colossus (Acorn)
By Mike Joyce
Robert Mugge's 1986 film Saxophone Colossus was widely hailed upon its release as essential viewing, not just for fans of jazz but for anyone even remotely interested in the creative process. The newest DVD incarnation, complete with Mugge's recollections of the joys and challenges encountered during production, reaffirms the film's many virtues.
Here, after all, is a documentary that, in addition to capturing Rollins in prime form, wielding his tenor in ways that have elicited hosannas from fans and critics alike for decades on end, examines the saxophonist's methodical approach to performing and improvising. Practice alone may take some musicians to Carnegie Hall, but as Rollins tells Mugge at one point, meditation and visualization are a big part of his pre-concert regimen. Here we also see, during an outdoors concert filmed at the Opus 40 quarry garden in upstate New York, various aspects of Rollins' persona onstage: the full-throated improviser who seems incapable of physically exhausting himself or depleting the wealth of his ideas; the gifted dramatist, skillfully balancing emotional tension and release; the unabashed entertainer, whimsically stringing together the familiar melodies that pop into his head. (This is also the storied concert in which Rollins jumps off a six-foot stage ledge, only to end up on his back with a broken heel. The misadventure, however, doesn't prevent him from quickly resuming the performance, albeit in a supine position.)
The quintet concert footage is effectively juxtaposed with an ambitious, large-scale production: the world premiere of Rollins' "Concerto For Tenor Saxophone and Orchestra," performed in Tokyo by Rollins and the Yomiuri Nippon Symphony Orchestra. While it's not as memorable as the small combo performances of "G-Man" and "Don't Stop The Carnival," the orchestral segment sheds light on Rollins' diverse interests in composing and collaborating. Interspersed are vintage concert footage and chats with critics Gary Giddins, Ira Gitler and Francis Davis, who dutifully (and glowingly) opine, each providing insights and context, as does Rollins' late wife and manager, Lucille. The final word belongs to Mugge, who gratefully dedicates the new release of this remarkable film in Lucille's memory.
Reprinted with permission from JazzTimes

THE CITY PAPER (Nashville)
February 3, 2009
OnDVD: New releases spotlight Green, Rollins
By Ron Wynn
Acclaimed director Robert Mugge has excelled as a music documentarian over the past three decades. His productions have profiled both famous and obscure performers in numerous genres. The long list of exceptional Mugge productions include a pair of 1980s works on Al Green and Sonny Rollins that have just been reissued on DVD.
Gospel According to Al Green and Sonny Rollins: Saxophone Colossus (both Acorn Media) represent the finest filmed presentations ever done on these two giants of American music, and each blend insights and splendid, rare performance footage in a manner that distinguishes them from basic concert or documentary items.
Al Green had made the transition from soul matinee idol to hard-working minister by 1984, the year Mugge originally filmed Gospel According to Al Green. He talks extensively about the events that led to his abandoning that soul career, and also discusses the problems he experienced in establishing and maintaining his Memphis church.
For those skeptical about Green's conversion, the DVD includes a marvelous example pastor Green, as he presents a rich sermon that combines biblical references, personal stories and occasional song inserts. The package also has several scenes from his church services, which sometimes extend for hours on Sunday mornings and afternoons.
But the DVD also showcases the masterful Green secular style, with excerpts from performances featuring magnificent renditions of classic hits like "Let's Stay Together" as well as equally strong gospel numbers such as "Amazing Grace."
Green addresses the demands of both stardom and the ministry with equal fervor, explaining that each demands an intensity and commitment that can be draining and debilitating.
Through a nearly 90-minute interview, viewers see sides of Green he's never before or since revealed. The set is completed with the inclusion of the original theatrical trailer and Mugge's reflections on the project.
As for Sonny Rollins, he began playing the saxophone as an 11-year-old and was working with Thelonious Monk before he was 18. His soaring, relentless solos and integrity as a performer have made him a beloved figure.
Rollins also has often walked away from the music scene when he felt his playing was getting stale or predictable, even at times when his work was extremely popular. Sonny Rollins: Saxophone Colossus was filmed in 1986, only a year after he'd started recording and performing again following almost nine years out of the spotlight.
His DVD includes far more comments and conversation from Rollins (who's never sought the spotlight) about his background and interests than usual. He goes into very specific detail about the importance of spirituality in his life and music, while dissecting his approach to improvisation and performance.
A song's melody has always been what has most attracted Rollins to a composition, and his ability to hear alternative directions in a tune while exploring it and his experiments with song structure are displayed in wonderful footage of him teaming with a Japanese symphony orchestra in Tokyo and a smaller group in New York.
While not extensively or exclusively a concert film, Sonny Rollins: Saxophone Colossus amply examines the Rollins musical method, while also giving fans vital insight into his interests and life away from the bandstand.
Reprinted with permission from The City Paper - Nashville's Online Source for Daily News
INTERVIEWS ABOUT SAXOPHONE COLOSSUS
Bob Andelman (aka, Mr. Media of YouTube.com) interviews Robert Mugge about his 1986 film SAXOPHONE COLOSSUS, newly released on Blu-ray and DVD.
Posted August 6, 2017. Interview Recorded July 11, 2017.
Debbie Burke of debbieburkeauthor.com interviews Robert Mugge about his 1986 film SAXOPHONE COLOSSUS, newly released on Blu-ray and DVD.
Posted August 4, 2017.
Tim Scott of noisey.vice.com interviews Robert Mugge about his 1986 film SAXOPHONE COLOSSUS, newly released on Blu-ray and DVD.
Posted August 2, 2017.